Hello everyone !
Last week, Emma Watson gave an interview to Vogue, featuring Paris Lees, an LGBTQ+ rights activist and advocate. For those of you who have not seen it yet, here is the full interview. Don't mind the title, it's a little clikbait-y, but the interview is much much much more than what is described.

I may or may not have shed a few tears watching this, because it reminded me how much I love this human. She is my description of perfection, because she's so imperfect, human and caring. I truly believe she's my favorite person in the world. No one can best her. NO.ONE.
Emma is a child star. I sometimes forget that, because unlike many of those kids, she did not end up doing drugs, drinking too much or simply losing her mind. Or maybe she did some of those things, but she managed to overcome it fast and we never knew because she was strong.
She's turning 30 now, and not only does she not look like it AT ALL, but she accomplished a lot during her time on Earth, and I don't think we can appreciate that enough. She portrayed the brilliant Hermione, who inspired many of us and helped shape who we are now which is the first thing I'm thankful for. And later she BECAME Hermione, by getting a degree, becoming an advocate for gender equality and a leader of the "He for She" movement after her speech at the UN a few years ago, AND she founded Our Shared Shelf, a book club promoting promising briliant female authors. If you have never heard of the Shared Shelf book club, here are the links to their social medias :
Our Shared Shelf
Facebook | Twitter | Instagram
I'm definitely not the same type of person as Emma, and I never will be. However, I really look up to her and admire her work, her personnality and everything she stands for. I mean, she played both Hermione AND Belle (not even going to mention she's playing in the Little Women movie releasing soon) ! How not to love her ?

The way she speaks about what she's passionate about and the fact she does so with the most purity ever makes me like her like no other famous person. She's her own person and is not afraid to not be who everyone expects her to be. The whole interview for Vogue was brilliant, but I must admit her point about being single really hit home for me. I 100% agree with her about the fact that some people don't NEED to be romantically involved with someone. It made me more comfortable with my own situation. I'm single, and am not necessarily looking for someone to date, as I'm doing my own things and living my own life and just, you know, building myself. My family and some friends do tend to ask every so often "Soooooooo, are you dating anyone yet ?", and it never fails to make me incredibly uncomfortable. Dating people is such a norm for many people that I felt a little pressured into finding someone who would love me, and felt a little somewhat unloveable, but hearing Emma saying that it's okay helped me find my peace regarding this topic, and I feel a bit lighter now. It feels really nice.
For that and all the reasons quoted above (and more !), Emma Watson will forever be my favorite person in the world. I hope she knows all the good she's making in the world and feels loved in her life, because she really deserves the world ❤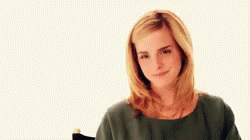 Thanks for reading !
See you soon,
Love, Jade ❤